Dog kennel refurbishment – January update
Last summer we asked for your help, to raise funds so that we can renovate our run-down kennels and play areas our dogs use (see here). We launched the fundraising with a sleep-over event, where three volunteers stayed the night with the dogs in the kennels, that was quite some experience!
Along with this fundraising event and many other generous donations, we are so thrilled to tell you €11,500 has been raised so far! This is AMAZING and we are overwhelmed by your generosity.
You maybe wondering whats been happening at ground level … we caught up with Big-Ron the foreman for the building works to find out: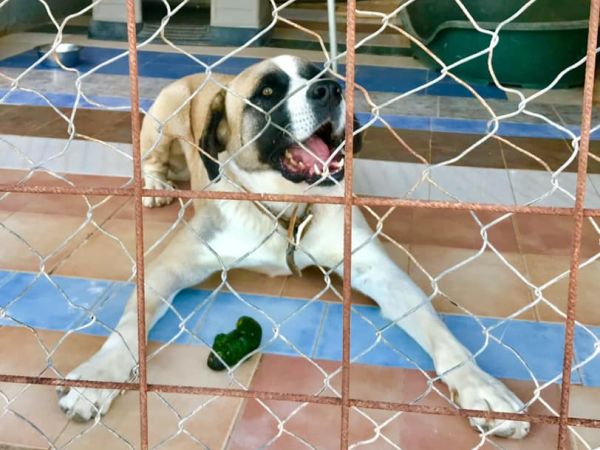 So Ron tell us what works you have been overseeing in the past few months?
Well … let me see … there is a small project team working together now to define what my kennel (and 5 others in my kennel block) should be like, so that I stay dry when it rains and I stay cool in the summer heat. There is an architect who has drawn up plans which will soon be ready to share with builders to get quotes for the work.
The team have not just been sitting about playing with me though whilst this has been happening, they have been sorting out some other areas of the shelter. My mate Rocky now has a whole new kennel to himself, its rather posh if I do say so myself. By building this for him, it has made available four other kennels so that my friends and I have somewhere to go when the work starts on our kennels (what great fore-thought these humans have!).
There has also been quite some going ons this week … building materials being delivered …. I have agreed as site-foreman… that the dog pens where Katy and Choco live and the Pod-pen out the back … can have new walls and fencing. Choco is quite a lump of a dog, and all that jumping up at the fences have made them fall apart. Ok, well I shouldn't put all the blame on him, but its about time those fences were safe and sound again for the good of all my fellow dog mates.
I've heard the project team talking about 'needing more volunteers' … people who are happy to give a few hours to help with the work. If thats you, please contact us, we love helpers …
I think thats it for now … I will be back with more updates soon … now, where is my tummy tickle and my walk!