The work of APROP by Presidente, Ana Femenia Ortolà
I was invited to contribute an article for this website and so thought I would use this opportunity to talk about our work at APROP. What we do at APROP is very extensive and varied, from the moment an animal enters until we manage to find a family that makes him forget all the suffering he has endured in his life, although, unfortunately we do not always succeed.
As there is much to explain, I will do it in parts.
PART 1 – THE RESCUE
The Pego City Council DOES NOT HAVE ANIMAL RESCUE SERVICE, it is an issue that we have discussed many times with the Mayor, Councillor and Local Police in which an agreement has not yet been reached.
However, as animal lovers, many times we simply cannot look the other way when we see that an animal needs to be rescued, so, we are the VOLUNTEERS themselves that WITHOUT HAVING ANY OBLIGATION, we decide to do the rescue IF OUR JOB OR PERSONAL LIFE ALLOWS US, without tools to be able to do it safely and with our own private vehicle.
The rescue of an abandoned, lost, scared, injured animal… is not always easy.
The cats we catch are often feral and have never had contact with humans, but can usually be caught with a baited trap and a little patience. Cat rescues are generally easier than dogs, since the cat usually stays in the same area.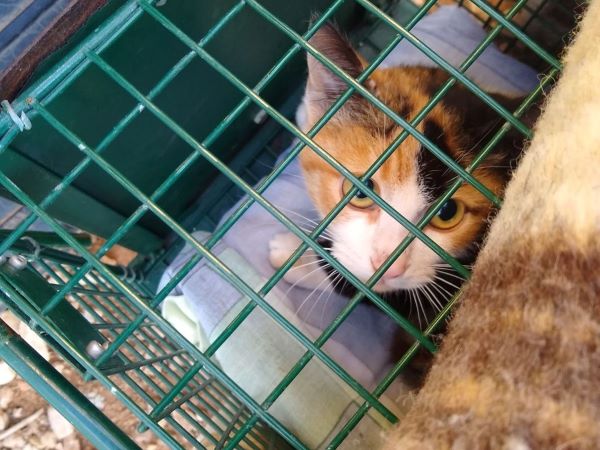 With dogs it is more complex, especially with dogs that are terrified of humans, whatever the reason. There are times that the rescue can last months, for this, VOLUNTEERS (people who unfortunately already have experience and know that you have to be very patient) dedicate themselves to making a meal routine. The dog is fed daily, always at the same time and in the same place until we confirm that it comes to eat every day, even waiting for the volunteers to arrive.
It is then that we get in touch with SOS ANIMAL RESCUE VALENCIA, an association that is exclusively dedicated to rescuing dogs with a special cage that closes the door remotely. This non-profit association receives a donation from APROP and sometimes from a volunteer, to at least cover the expenses of the trip from Valencia. We have created a great friendship with these people who always help us when we call them, having to come several days in a row if it is not achieved on the first try.
There are rescues that are easier and that are made by the private citizens themselves.
Another issue is the complaints of animal abuse, in these cases there is another Association in Javea, SALVACAN, with which we have a great bond and friendship. It is dedicated exclusively to reporting cases of abuse and ensures, if the relevant authorities help, that the animal receives the needs it deserves or can even be confiscated in very serious cases. In this case, it is APROP that is in charge of receiving these animals to try to repair their totally shattered heart (although it is not always possible) and to try to find a home where they will never suffer again.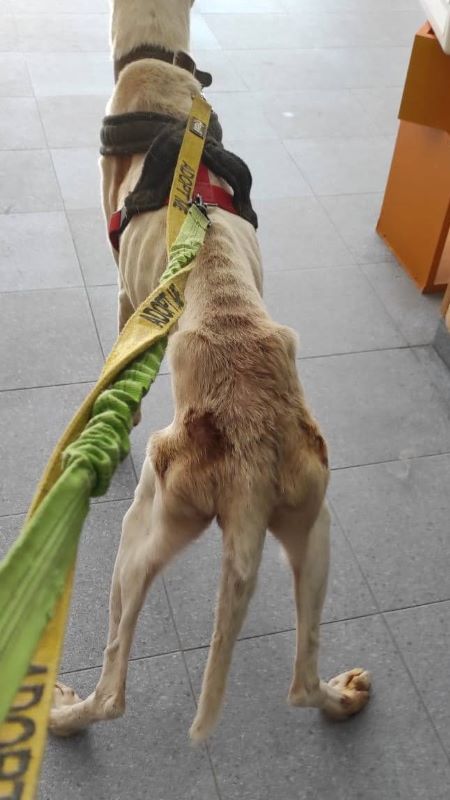 The vast majority of these dogs, who have had all the joy of living taken away, are Podencos, at breed that is so punished and with which we are increasingly in love, for being very special, sociable, grateful, funny beings…. But also Mastiffs, German Shepherd, American Stafford, Braco, Pointer, Setter, Breton, mestizos (dogs without a defined breed)….
I would like to finish this first post by explaining the guidelines to follow when rescuing an animal:
– Call the Local Police, so they can check if it has a chip.
– If it has a chip, they immediately contact the owner so that he can retrieve his animal.
– If it does not have a chip, it is transferred to the shelter, where it is published on our website and Facebook page, waiting to be lucky and for someone to recognize it.
– After 21 days, if the owner does not appear, he can be put up for adoption.
Remember that it is an obligation for everyone to chip our dog or cat, only then can we locate its owner.
I hope you enjoy this first instalment. Part 2 will follow shortly.
All the best
Ana Femenia Ortolà