Selva had been seen darting through the orange groves around Pego for a few months before she joined us at APROP in early May 2020. Her capture had involved a cage – a memory, that it became clear, had stayed with her.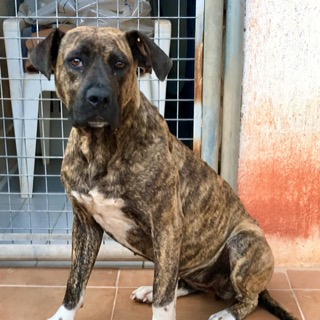 On 20th August 2020, Selva left the shelter to start her new life, heading for Switzerland. Sadly, just a few hours later, Selva managed to escape her harness and for the last 7 months has been living on the streets of Gandia.
Social media was flooded with the news of her escape and, very quickly, an army of like-minded, committed people joined a group whose sole aim was to rescue Selva, for the second time.
Posters were produced and taped to lamp-posts and bins in the towns of La Safor – L'Alqueria de la Comtessa, Piles, Miramar, Palmera, Beniarjó, Almoines and Benirredrà.
Selva seemed to settle in the area surrounding Benirredrà, and the plan was to establish a feeding routine. Two rescue attempts were made, but sadly, neither were successful. That cage was firmly in Selma's mind and she wasn't keen on entering it again!
The complications of the cold and rain of winter and strict COVID restrictions did not deter Selva's main carers, Carmina, Mari Ángeles and Pachi, who continued to track, feed and try to gain the trust of Selva.
Eventually Selva started to follow her carers and occasionally eat from their hands. Trust was definitely starting to be established. Then, exactly 7 months to the date that Selva escaped, something remarkable happened. It was the day after the Feast of Saint Joseph, a huge fiesta day in the province of Valencia, and the residents of Benirredrà continued to celebrate into the weekend, setting off fireworks in the street…This resulted in Selva being terrified and seeking comfort, solace and reassurance by approaching Carmina. Selva allowed herself to be caressed and soothed, and in doing so, Carmina was able to gently take hold of Selva's collar…the collar she had hoped to arrive in Switzerland, wearing. Selva was rescued for the second time! There was great emotion from everyone involved, all at APROP and heartfelt, sincere thanks to Selva's guardian angels.
So, now Selva is starting the next chapter of her journey. She stayed just one night with us at the shelter. It was clear that she still enjoyed the company of other dogs, playing freely with the new pack of Podencos – Selva had been an honorary Podenco during her first stay with us!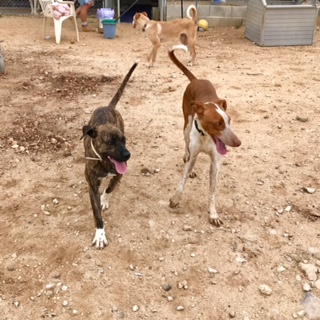 Even more interesting, was that she seemed more accepting of humans and allowed approach, touch and feeding from hands – something she would never have done before. The day after her rescue she went to start her rehabilitation, joining the incredible women of Happy Chuchos, who have done amazing work with some of our residents, previously. Selva has already experienced sleeping in a warm, comfortable bed in a house, at night, and has a new pack of friends to play with and learn from.
Selva is still a young girl who has had an adventurous life, so far – in future, we hope that her adventures will include a loving family and an anti-escape harness!