Hola, and welcome to the latest Pod Cast, brought to you this week, by our very own Star Girl, with Heterochromia (one blue eye and one brown eye, to you and me!), Estrella!! Estrella came to APROP with her young daughter, Dora. Their owners were persuaded to surrender them, which didn't take much, as poor Dora had a broken leg which took months to fix, rehabilitate, mend and finance! Estrella has been a resident since January 2021, and shares her kennel with Cristina.

Estrella : So, tell us how you came to be looked after by the kind people at APROP?
Cristina : Well, I arrived a couple of months before you, in November 2020. The person who"owned"me decided that I was no longer of any use and left me in the outside kennel. It's safe to say, I was petrified. The noise of the dogs and the humans at the shelter were all so anxiety provoking for me. 
Estrella : What do you mean?
Cristina : Well, my owner didn't have the courage to even surrender me to the people at APROP – to have shared some of my history; even my name…though I like Cristina and it sort of marks a new beginning for me. The constant barking at the shelter brought back bad memories of being with the hunter, and I had never seen so many people, before, coming back and forth. Even moving around the shelter, having to go through doorways was, and still is, though to a lesser degree, so scarey. They wonder if previously, going through a doorway was accompanied by abuse and if that's why I'm so scared. Either way it's going to take a long time to get over my fear of all things human.
Estrella : That's awful, Cristina. You do seem to be much better about it, now – even looking forward to your walks!
Cristina : Yes! It took me some time to allow humans to approach me to put on a lead and harness. Some humans thought that I wasn't interested, but I just needed some time, patience and understanding. Once I'm out of the shelter I love sniffing out things to pounce on or potentially chase.
Estrella : And you're going a bit further from the shelter, now, too?
Cristina : Yes, some of the volunteers are giving me the opportunity to experience the sounds and smells of more urban life, but I have to take it slowly. Just this week, I went further than I have ever been – thanks for accompanying me, Estrella – but that recycling truck at the end of the road was just too much! I just wanted to run away. Thankfully, I had two leads on, one attached to my collar and the other to my harness, for extra security.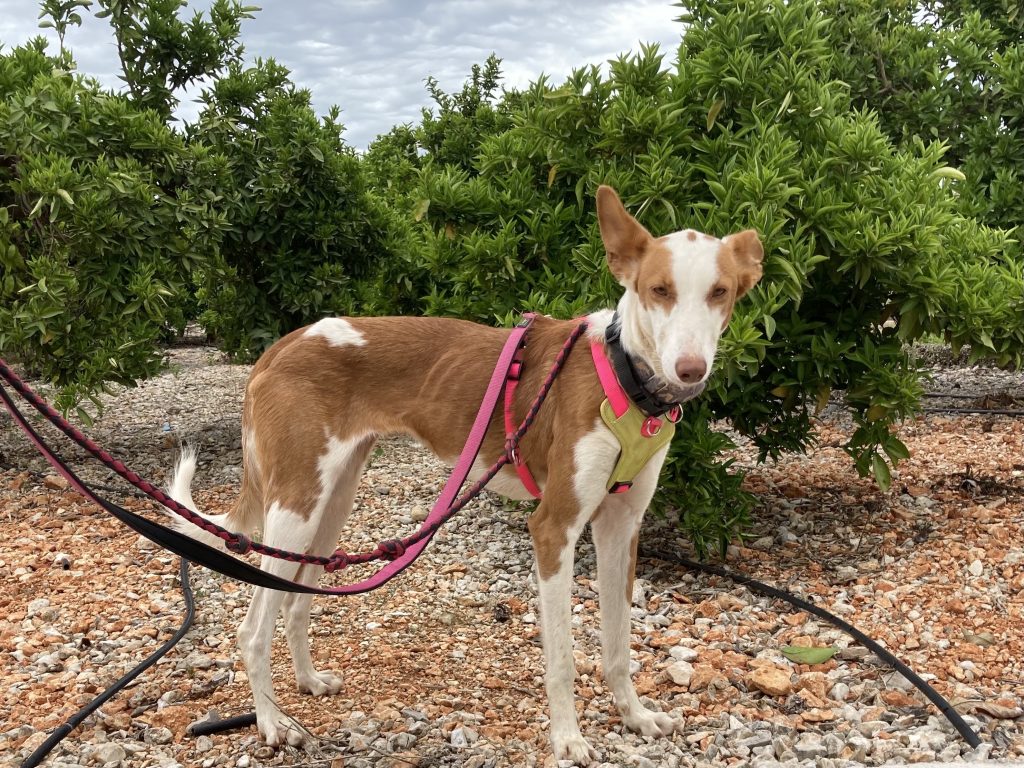 It was quite comical watching the volunteers having to scramble across country and up the banks of the  barranc, as there was NO way I was walking past that truck to go the normal way back to the shelter!
Estrella : It was comical! Now you're on the road to gaining a bit more confidence, how do you see your future?
Cristina : I think the opportunity to live in a quiet home in the country would suit me best, maybe with a more confident, kind dog to show me the ropes. Because, as they say, just as one door closes, another doorway opens….