Fund Raising in Lockdown!
When a new fundraising team was set up, early in 2020, little did we know that the world was about to change significantly, due to the global pandemic of Coronavirus. No longer could we rely on social occasions to fund raise, so we had to put our thinking caps on!
Using the power and reach of social media was the obvious choice, and just from Facebook fundraising alone, in the past 12 months, we've raised €7533. These have been campaigns for diverse circumstances such as specialist food, and veterinary bills for litters of puppies or the urgent need to replace and improve the roof on the cattery. We ran "on-line" quizzes, raising €450; and had a targeted "GoFundMe" campaign to fund a placement at a specialist kennel dealing with dogs regarded as dangerous, which raised €630. The placement also led to the successful adoption of that dog to the U.K. A new massage business in Pego kindly donated €112 from their December appointments, and in the run up to Christmas, volunteers collected donations, held a raffle and sold APROP merchandise and 2021 calendars outside Aldi in Pego. All Covid 19 guidelines were followed and we raised a total of €1775.22 over the two Saturdays, and from the on-line version of the raffle!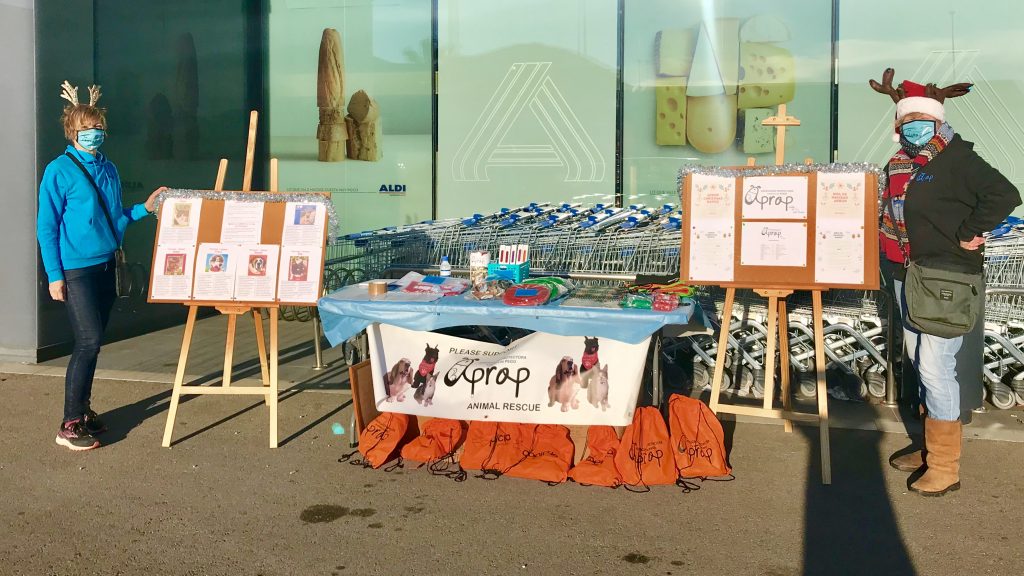 Our annual calendar sales started in late October, and the improvements made to the overall look of the calendar and it's quality paid off. The APROP 2021 calendar raised €2866 profit.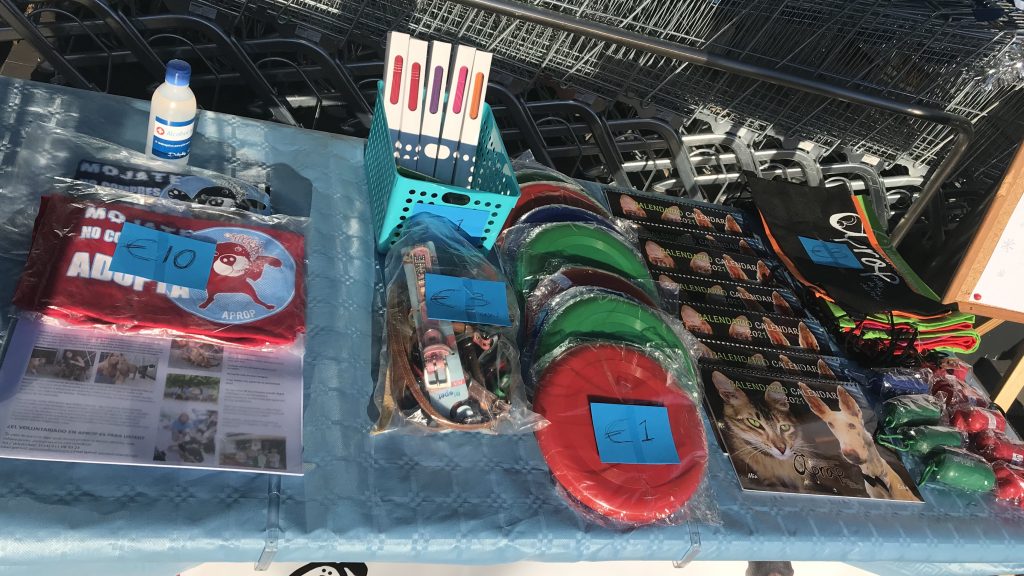 Christmas-time also saw the socially distanced Santa Paws walk in Javea, organised by a valued supporter, which raised €300 and our "Sponsor-a-pet-for-Christmas" initiative raised another €384.45! 
There were some other events too, organised by other kind supporters, but, again following guidelines, with a Bingo Night in Pedregeur raising €520 and €1085 from a Christmas Bazaar in L'Adsubia, and takings from a previous Rastro in El Verger. New APROP T-shirts bought by our dedicated teams of volunteers made €177 profit, and an artistic supporter in England offered pet portraits to friends and family, who then made a donation to APROP. This generated around €375. And last, but not least, we ran a Valentine photo competition in February of this year, which raised €302.
We have just started a new initiative to increase the number of Teamers we have. If we could get to 1000 Teamers in the coming year, that would mean a guaranteed income of €1000 every month, but each Teamer,individually, would be donating a mere €1/85p per month. Please, please help us to get to our target!
None of this would be possible without the continued dedication of our volunteers working with the cats and dogs, daily and the seemingly never ending generosity of donators, sponsors and supporters. We thank each and every one of you, on behalf of all our cats and dogs, from the bottom of our hearts – without you, we couldn't have raised more than €16,509.67, despite Coronavirus!